One of the historic gems in Water Mill is the Community House, located on Montauk Highway in the heart of the hamlet.
Town records from 1892 tell us that Mrs. D.F. Osborne, Gilbert LeFevre and James H. Corwith were in charge of a "subscription committee to sound the people out and see if they want a place of worship." At the time Water Mill residents attended religious services at existing churches in Bridgehampton and Southampton.
There must have been a positive response because on June 12, 1895 the Water Mill Union Chapel Society was incorporated and shortly thereafter Palaski and Maria Warren deeded one-third of an acre between the cemetery and their house to the new organization.
Walter E. Brady, a Southampton architect, was hired to design the chapel. Construction started in August 1897 and the chapel was dedicated on September 25, 1898.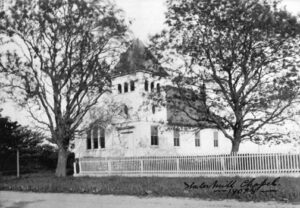 Water Mill Chapel 1907-1908
Although built for religious services, no established church occupied the building. Services were run by lay teachers or visiting preachers. Afternoon Sunday School was held in the building until about 1913. Sometime in the 1920s, religious services ceased – but the building continued to be used as a meeting hall.
It was maintained with volunteer labor and contributions raised by the trustees of the Chapel Society, who were elected by local residents.
The Southampton Grange, which had many active members from Water Mill, held its meetings in the building from 1924 to 1981. It was also used for community plays, dances, social and public meetings and dinners. During World War II it served as a Civil Defense headquarters.
In the mid 1970s the Chapel Society turned the building over to the Water Mill Community Club which is currently responsible for its maintenance. The building is currently used for community dinners and meetings and is rented out to organizations and private individuals for family parties and gatherings.
In 1993 the Water Mill Community Club restored the belfry tower with money donated by a local resident. Its cracked north and west stained glass windows were reconstructed, the original belfry bell – cast in 1837 – was rehung and window glass was installed in the tower openings.
More details about the Community House can be found in the book, Water Mill: Celebrating Community, which is available at the Water Mill Museum.