Planning to visit us? View our schedule for the season!
Come Visit Us!
The building itself dates back to the 18th century, and is over 250 years old. It features a restored working water-powered grist mill, exhibits of local historical artifacts including Ice harvesting, Whaling, Civil War, Post Office, Farming and Timelines of life in Water Mill. Along with presentation of the rich history of Water Mill we are actively involved helping showcase Art and Quilt work of our members.
If you are interested in history and art there are many ways to get involved. Join us for a visit, an event, art show, special exhibit or lend a helping hand by volunteering.
The Water Mill Museum will adhere to the CDC and local town guidelines regarding COVID-19 safety practices.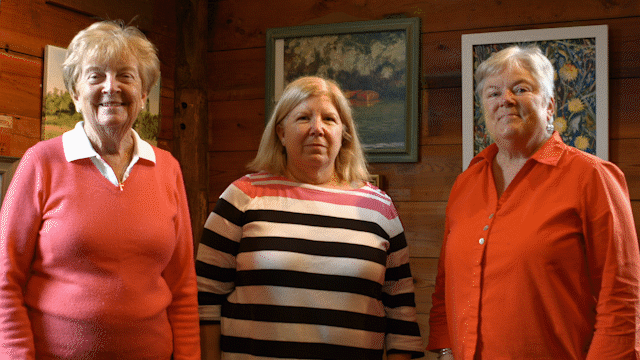 The museum art gallery features a changing display of the works of artists and quilters throughout the season.

Outdoor deck is where we hold children's activities and small receptions. It also is a nice place to sit and enjoy our Colonial garden.

The Benedict Potting Shed is used for making pottery and houses the Clay Art Guild of the Hamptons.

The second floor at The Mill exhibits Water Mill's first post office, local agricultural history, and Memorial of the men and women who served their…

The main floor exhibits tools that built the mills, the gears & grinding platform, the seapoose, history of the mill, changing exhibits and the museum…

The gift shoppe is curated to offer Water Mill gifts for all ages and interests.

This historic landmark sits on the Village Green in Water Mill, welcoming residents and visitors alike, as they pass through this quiet hamlet. Stop by…

The early settlers depended on herbs and spices for medicinal and culinary uses.

Uncles Fred's workshop where Fred Bendicit worked on all his amazing activities until 1952. A place where he tinkered, designed, and met with summer visitors.

Exhibitions, Events, & Experiences

Water Mill Museum - Open

May 25 | Museum open for the season

Thursday, May 25 - Sunday, June 11, 2023

Opening Reception: Saturday June 3 | 4-6:30pm

Thursday, June 15 - Sunday, July 2, 2023

Opening Reception: Saturday June 17 | 4-6pm

Thursday, July 6 - Sunday, July 23, 2023

Opening Reception: Saturday July 8 | 4-6pm

Thursday, July 27 - Sunday, August 13, 2023

Opening Reception: Saturday July 29 | 4-6pm

Thursday, August 17 - Sunday, September 3, 2023

Thursday, September 7 - Sunday, September 17, 2023

Thursday, September 7 | 7:00 pm

Opening Reception: Saturday September 9 | 4-7pm

Thursday September 28- Sunday, October 1, 2023

Saturday September 23 & 24 | 11-4pm

Saturday September 30 | 4 to 7pm

Saturday October 7 | 11 to 2pm

Water Mill Museum - Closed

Sunday October 8  | 4pm Museum closed for the season

October 10 | At the Museum 4pm All are welcome

What our visitors are saying about their experience

I was delighted to tour a genuinely real structure from 300 years ago, filled with artifacts and exhibits! This is a true hidden gem which everyone can enjoy.

The Hayden Family'

This place shines a bright light, in such a cool way, on the history of Water Mill! And, wow, is it rich! We learned so much.

Alma and Dwight Polk'

Subscribe

Sign up with your email to receive news and updates!